Patio & Carport Installation
Frank's Home Décor Centre install quality patios and carports in the wide bay area. Available in a wide range of colour options, all our carport and patios are designed to provide maximum functionality and versatility. We supply and install Ausdeck Roofing Systems in single skin roof panel, insulated roof panel or marine plus roof panel which both offer great solutions for your outdoor cover area. Visit our gallery to see some of the patios, carports and other external structures that we have previously worked on.
For more information regarding our patio and carport products, contact us today on 07 4124 4985.
Ausdeck Insulated Roofs
With the versatility of Ausdeck roofing your can create an insulated environment to perfectly suit your home and lifestyle. A clever three-in-one design that combines exterior roofing, superior insulation and a finished ceiling in an easy to install cut to length panel.
Ideal for add on rooms, patios and carports with impressive insulation for year round climate control. Ausdeck Insulated Roofs are made of durable, three-tiered roofing material which bonds a high tensile roof sheet and a smooth underskin/ceiling with an insulating polystyrene core.
Ausdeck Insulated roofs come with your choice of 50 mm, 75 mm, 100 mm, 125mm or 150 mm fire retardant insulated core. Some of the main benefits include reduced heat transmission,  insulation against noise from rain and storms and energy-efficiency.
All Ausdeck Insulated Roofs are Australian-made and come with a 15-year warranty.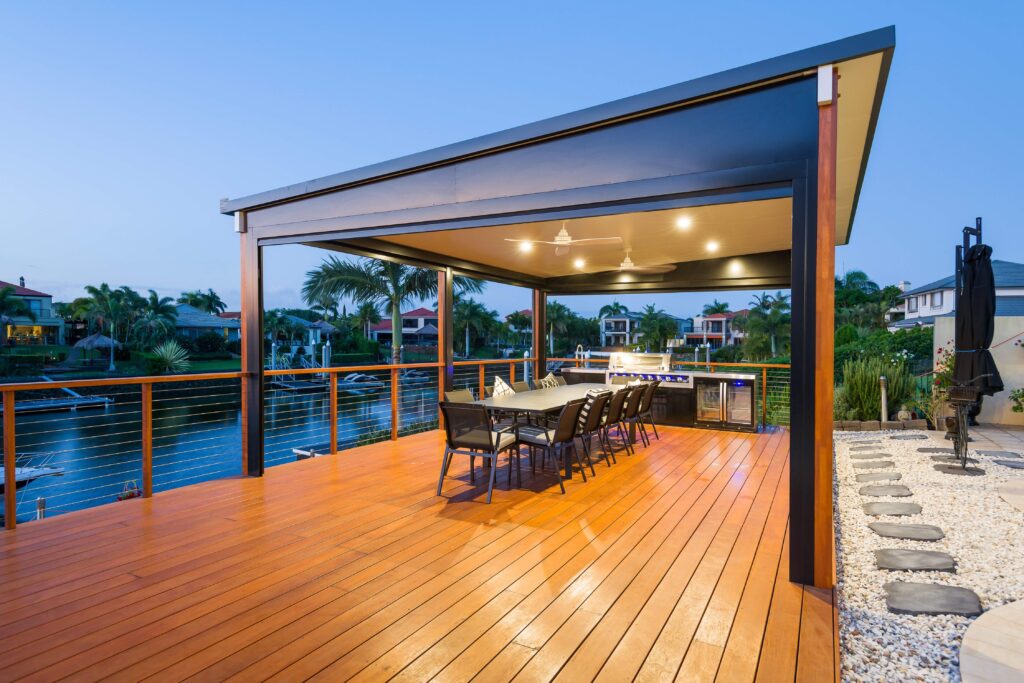 Ausdeck Marine Plus
The Marine plus range has been specially designed to be installed in locations close to water (including pools), where premature deterioration of steel structures can occur. It uses a unique 5 layer formula across its components to give you peace of mind on your entire new living area.
All Marine plus products come with a site specific warranty of up to 15 years.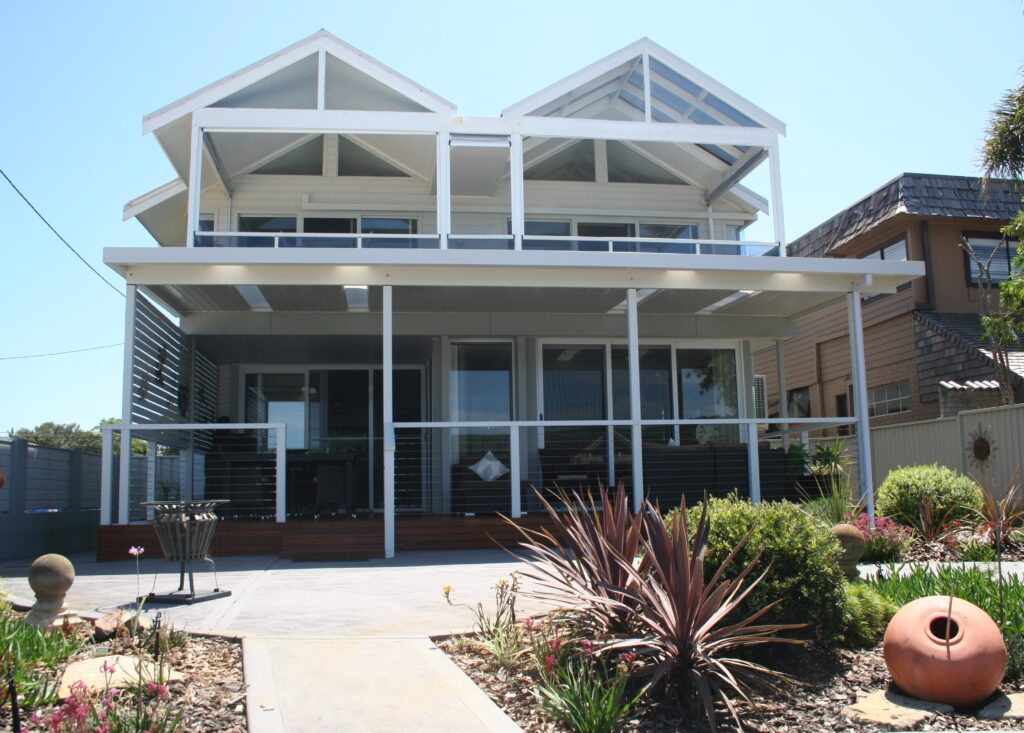 Ausdeck Single Skin Roofing
Ausdeck's V-Line is an affordable, single skin roofing system designed specifically for home improvement applications. Manufactured with a smooth, clean VJ appearance and an 80% high gloss ceiling finish. It features a weatherproof joining system, fluted beams and profiled powder coated posts. Choose from an extensive range of roofing styles: from flat roofs with skylights or an attached angled gable roof, to carports with a choice of designs customised to blend with your existing roofline.

Warranty
All our patios come with a 15-year warranty on product and materials as well as a Master Builders warranty of 6 years, 6 months warranty and QBCC building insurance with all construction. We also offer all our customers a free measure and quote service and you are also welcome to visit our Hervey Bay showroom to speak to one of our experienced consultants face-to-face as well as see some of the different products we have available.

See our WORK
Organise a Free Measure and Quote
Organise a free measure and quote for your carport or patio project – get in touch with us on 07 4124 4985 to book.